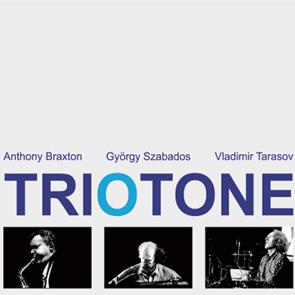 CD LR 416
-
LEO RECORDS
Triotone
Release date: 2004/12
| | |
| --- | --- |
| Sold out | single CD (audio): Original audio CD sold out |
Listen
to ogg-audio sample ::
(What is ogg?)
Recorded live at the festival of jazz and improvised music in Serbia Montenegro, this CD brings together three international stars: Anthony Braxton - reeds (USA), Gyorgy Szabados - piano (Hungary), Vladimir Tarasov - drums (Lithuania). They played two pieces by Gyorgy Szabados, who is considered to be a father of free jazz and improvised music in Hungary, and three improvised pieces. And what is the character of the music? Stuart Broomer: "It's in many ways a great recording of Hungarian music and is, in certain respects, a particularly strong recording of what was once termed third stream music..."
The above Ogg-sound sample, due to a typo, ogginfo displays cldr316 instead of cdlr416. Sorry!
---
Top menu's More...: Releases by date: [Latest releases: 2021/01, 2020/09, ../06, /05, /03, 2019, ..18, 17, 16, 15, 14, 13, 12, 11, 10, 200x, 199x] :: Artist list :: Mail Orders :: Distributors :: Contact :: Events & Links :: Other Labels: [feetfirst records | Long Arms | DOMA] :: About [Golden Years | LeoLab | Long Arms/Doma | feetfirst] :: Home

Copyright © (2018) by LeoRecords :: VAT-Id: GB505621965:: All external links are outside the responsability of LeoRecords :: General Privacy Policy: By using our website, you consent to the collection, processing and use of data as follows: Our website can be visited without registration. The data, such as the pages visited and/or names of the retrieved file, date, and time are stored on the server for statistical purposes. This data can not be directly related to your person. Also we do not use cookies for collecting personal information. Personal data, in particular name, address, and e-mail address that Paypal sends us for online orders are not shared with third parties without your consent. :: Last updated 21-Jan-2021 :: Webdesign by otolo.com :: Visit and join Leo Records Google Groups