LEO RECORDS Music for the Inquiring Mind and the Passionate Heart
CD catalogue: [All | Leo Records | Leo Lab | Golden Years of New Jazz | feetfirst records | Long Arms | DOMA] :: New releases: [2017/09, ../06, ../05, ../03, /02, 2016, ..15, 14, 13, 12, 11, 10, 0x, 199x]

Home | Artist list | Mail Orders | Distributors | Contact | Events & Links] :: About [Golden Years | LeoLab | Long Arms/Doma | feetfirst]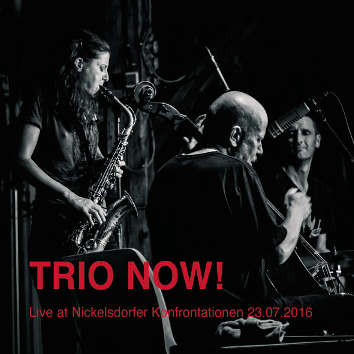 This is the third time this Austrian unit appears on Leo Records although the first time (CD LR 554) they were a quartet. Tanja (saxophone), Uli (cello) and Fredi (drums) grew up in the small village of Ulrichsberg, they know each other from childhood, they caugth fire at the Jazzatelier Ulrichsberg and started playing and dreaming. Now, some 20 years later, they are the pride of Austrian new music with their own sound, identity and even sense of humour. The motto of TRIO NOW! - rehearsals are not possible without: olives, wine, potato-crisps, tittle-tattleing.
---
:: Copyright © (2015) by LeoRecords :: VAT-Id: GB505621965:: All external links are outside the responsability of LeoRecords :: We do not use cookies for collecting personal information from this site. :: Last script update 09-Sep-2017 :: webdesign by otolo.com :: Visit Leo Records Google Groups