LEO RECORDS Music for the Inquiring Mind and the Passionate Heart
CD catalogue: [All | Leo Records | Leo Lab | Golden Years of New Jazz | feetfirst records | Long Arms | DOMA] :: New releases: [2017/09, ../06, ../05, ../03, /02, 2016, ..15, 14, 13, 12, 11, 10, 0x, 199x]

Home | Artist list | Mail Orders | Distributors | Contact | Events & Links] :: About [Golden Years | LeoLab | Long Arms/Doma | feetfirst]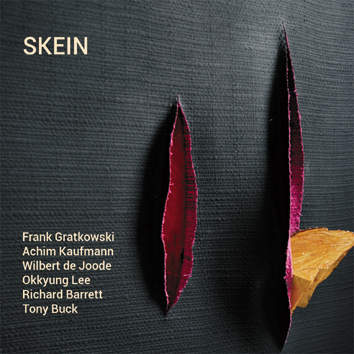 Beautifully recorded by SWR2 Redaktion Neue Musik, SKEIN is an extension of the long-lasting trio Kaufmann (piano), Gratkowski (reeds), DeJoode (bass). With the addition of Okkyung Lee (cello), Richard Barrett (electronics) and Tony Buck (drums) Frank Gratkowski created the most powerful sextet. This carefully chosed constellation of six improvising musicians present a delightful example of what is called instant composing. Frank Gratkowski: "Absolutely one of my best ever recordings of improvised music."
---
:: Copyright © (2015) by LeoRecords :: VAT-Id: GB505621965:: All external links are outside the responsability of LeoRecords :: We do not use cookies for collecting personal information from this site. :: Last script update 09-Sep-2017 :: webdesign by otolo.com :: Visit Leo Records Google Groups