LEO RECORDS Music for the Inquiring Mind and the Passionate Heart
CD catalogue: [All | Leo Records | Leo Lab | Golden Years of New Jazz | feetfirst records | Long Arms | DOMA] :: New releases: [2017/03, ../02, 2016, ..15, 14, 13, 12, 11, 10, 0x, 199x]

Home | Artist list | Mail Orders | Distributors | Contact | Events & Links] :: About [Golden Years | LeoLab | Long Arms/Doma | feetfirst]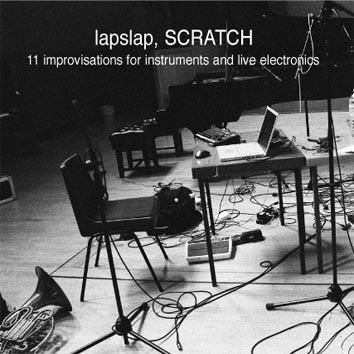 "Scratch" is the companion album to lapslap's debut CD "Itch" released in 2008 to a high critical acclaim. Michael Edwards (tenor sax, computer, midi wind controller), Martin Parker (french horn, computer), Karin Schistek (piano) freely combine computer solos with instrumental trios and any combination in between. The music draws from traditions ranging from avant-garde classical, free improv/free jazz through to improvised electroacoustic/glitch.
---
:: Copyright © (2015) by LeoRecords :: VAT-Id: GB505621965:: All external links are outside the responsability of LeoRecords :: We do not use cookies for collecting personal information from this site. :: Last script update 02-Mar-2017 :: webdesign by otolo.com :: Visit Leo Records Google Groups