LEO RECORDS Music for the Inquiring Mind and the Passionate Heart
CD catalogue: [All | Leo Records | Leo Lab | Golden Years of New Jazz | feetfirst records | Long Arms | DOMA] :: New releases: [2017/03, ../02, 2016, ..15, 14, 13, 12, 11, 10, 0x, 199x]

Home | Artist list | Mail Orders | Distributors | Contact | Events & Links] :: About [Golden Years | LeoLab | Long Arms/Doma | feetfirst]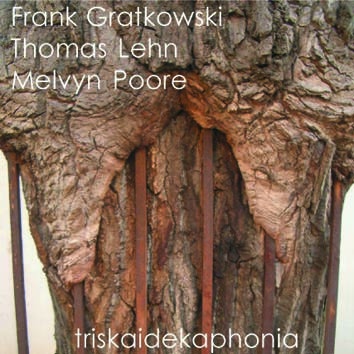 I can imagine that, having listened to this recording, some reactionary writers might write that the sounds here are more to do with cockroaches fornicating than music. It takes tremendous courage to play the way these three musicians do. Sensitive ears, however, will decern a lot of highly original and totally unique music performed on a very unusual combination of instruments. Frank Gratkowsi - clarinet, bassclarinet, contrabass clarinet, Thomas Lehn - analogue synthesizer, Melvyn Poore - tuba, euphonium.
Total duration 68'28"
---
:: Copyright © (2015) by LeoRecords :: VAT-Id: GB505621965:: All external links are outside the responsability of LeoRecords :: We do not use cookies for collecting personal information from this site. :: Last script update 02-Mar-2017 :: webdesign by otolo.com :: Visit Leo Records Google Groups