LEO RECORDS Music for the Inquiring Mind and the Passionate Heart
CD catalogue: [All | Leo Records | Leo Lab | Golden Years of New Jazz | feetfirst records | Long Arms | DOMA] :: New releases: [2017/09, ../06, ../05, ../03, /02, 2016, ..15, 14, 13, 12, 11, 10, 0x, 199x]

Home | Artist list | Mail Orders | Distributors | Contact | Events & Links] :: About [Golden Years | LeoLab | Long Arms/Doma | feetfirst]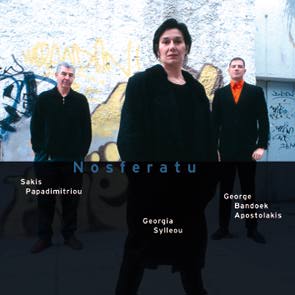 A project of "Silent Movies With Music In Situ" by Sakis Papadimitriou.
Music composed, improvised and performed after the 1922 film by F.W. Murnau. If any of the Leo Records CD has a chance of making the charts without sacrificing music's integrity, originality and creativity this is the one. Recorded live while watching the film, Georgia Sylleou's voice will ring in your ears for days and days.This project would be a hit at every music festival all over the world.
---
:: Copyright © (2015) by LeoRecords :: VAT-Id: GB505621965:: All external links are outside the responsability of LeoRecords :: We do not use cookies for collecting personal information from this site. :: Last script update 09-Sep-2017 :: webdesign by otolo.com :: Visit Leo Records Google Groups