LEO RECORDS Music for the Inquiring Mind and the Passionate Heart
CD catalogue: [All | Leo Records | Leo Lab | Golden Years of New Jazz | feetfirst records | Long Arms | DOMA] :: New releases: [2017/03, ../02, 2016, ..15, 14, 13, 12, 11, 10, 0x, 199x]

Home | Artist list | Mail Orders | Distributors | Contact | Events & Links] :: About [Golden Years | LeoLab | Long Arms/Doma | feetfirst]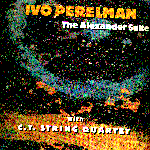 The tenorman Ivo Perelman says that he has recorded an album which crystallizes everything he has done so far. His melodic nature comes through, while his beautiful lines recall the stew of Brazilian, Jewish, Afro-American and European musics.
The CT String Quartet led by Dominic Duval are hardly providing conventional "comping." Breathtaking stuff.
Liner notes by Richard Cochrane.
---
:: Copyright © (2015) by LeoRecords :: VAT-Id: GB505621965:: All external links are outside the responsability of LeoRecords :: We do not use cookies for collecting personal information from this site. :: Last script update 02-Mar-2017 :: webdesign by otolo.com :: Visit Leo Records Google Groups